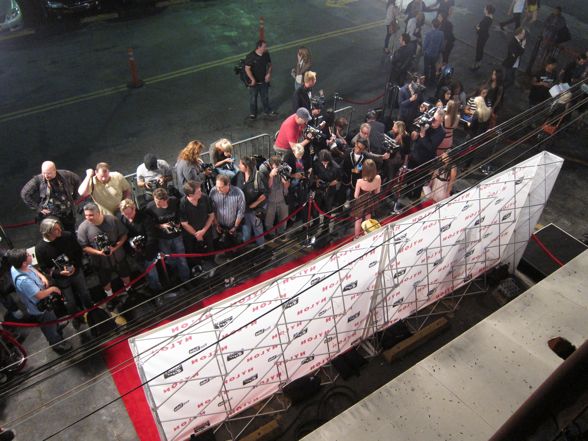 There's never a dull moment in Hollywood it seems, and last night was no exception. Nylon Magazine held its annual "Young Hollywood" Party, and given that I am the paragon of the young Hollywood ideal, it seemed like the logical thing for me to attend this bash. Joining me were two of my lady lovers, Phamtastic and Ashton, and our friend Sean (not a lady lover, but a spirited gentleman nonetheless). Together the four of us proudly tromped our way through Hollywood hotspot Bardot to take in the lights, the stars, and most importantly, the free booze.
Pics after the jump…

Phamtastic and I in a not-so-on-point red carpet moment.

Much improved.

The red carpet from above. Mania, etc.

Me posing with the magazine cover. Amusingly, I saw cover model Rory Culkin at the party but didn't realize it was him until afterwards. I actually initially thought he was Brett Loewenstern from American Idol, and then when I realized my error, I simply dismissed him as some strange Hollywood type. Little did I realize I was mentally disdaining a CULKIN.

Some of the cool lights emanating from the DJ booth. Fun fact: the DJ was Benji Madden. Okay, maybe it wasn't THAT fun of a fact.

Kathy Griffin, looking fantastic in person.

Ashton poses with Cameron Monaghan from Shameless. Truly putting the "young" in Young Hollywood.

Phamtastic and Ashton were only TOO EXCITED to hang with singing sensation JoJo. I didn't realize it was her until afterwards. Oh how they GROW! I wanted to speak to her later, but truth be told it was just TOO LITTLE TOO LATE. #JoJoPun.

Random shot of the crowd. General observations that can't be gleaned from this photo: 1) practically every person at this party was hot. 2) The party in general was hot. Literally. It was boiling. I was sweating by the end. Not a good look. Bardot needs to get their climate control in order.

Another picture of the crowd. I didn't realize until later that I had captured Stephen Colletti (Laguna Beach, One Tree Hill) giving bug eyes.

More crowd shots. In the distance, one can see Benji Madden posing with a girl behind the DJ booth. And in the foreground, oh look, it's his ex-girlfriend, PARIS HILTON.

The End.