With the Super Bowl marking the end of football season two weeks ago, I made a pledge to eat healthy for a month and forgo all those carby, fatty meals that had littered my January and February. Dare I say it — I even declared that I would try paleo. Yes, paleo: that utterly annoying eat-like-a-caveman diet that everyone seems to do and love/hate. This was going to be the newer, Stone Age-ier Ben, and with any luck, I might even develop the early tracings of an ab or two.
Naturally, none of this happened.
That's probably a good thing because otherwise I would have had to have declined the invitation for a media-comped lunch at the newly opened DeSano Pizza Bakery in East Hollywood. With pizza, calzones, gelato, and cannoli on the menu, I can assure you that this burgeoning eatery is not the destination for dieters hoping to embrace their inner Australopithecus. (And whoa, "Australopithecus" wasn't flagged by spell check. But cannoli was. I don't understand this world).
After the jump, check out pics of lunch at DeSano Pizza Bakery.

Located on a "colorful" stretch of Santa Monica Boulevard where I definitely saw a homeless man peeing on a tree, DeSano Pizza Bakery looks to be a beacon of gentrification for the area. Think DTLA Arts District warehouse cool.
If you're worried about the area being slightly rough, fear not: there's a huge attached lot off of Alexandria Ave with (drumroll) FREE PARKING. I mean, this doesn't happen in LA. I would go for this alone.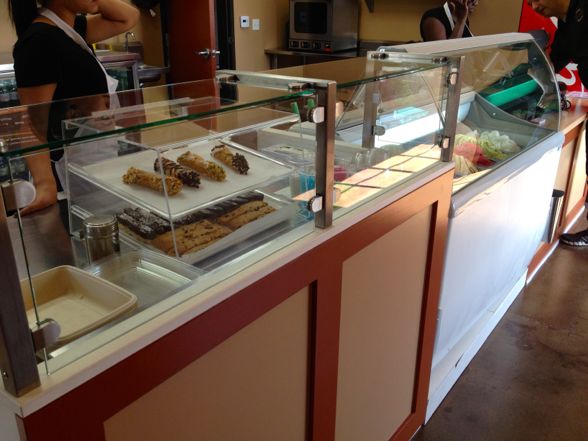 Upon entering the space, customers encounter this beguiling display of cannoli and gelato. It's pretty alluring stuff. But pace yourself, as there is pizza to be had. This is also where the ordering happens.

Should you purchase a bottle of Pellegrino or Mexican Coke, handy bottle openers adorn the counter — as demonstrated by my friend Matthew.
Aforementioned cannoli. More on these later.

I can't help but hear The Little Mermaid's "ahhh-ahhhh-ahhhhhhh" voice when I see this gelato.

But back to the pizza. The dough is made in this room, and as the operation smooths out and gets into its groove, patrons will be able to watch the process through a large window.

Pre-made pizza dough patties. These rest for twenty-four hours before going to the kitchen.

Speaking of the kitchen, there it is in all its open-air glory. Note the wood-burning ovens.

For those seeking hot pepper flakes, shredded cheese, or anything else, there's a handy condiment bar at the front of the dining room by the kitchen.

The space itself is big and airy. Once the restaurant gets its liquor license, it will be a perfect place to spend an hour or two throwing back a beer with friends.

And now the food. First to arrive is a cheesy calzone stuffed with rapini, buffalo mozzarella, and sausage. It's rich, melty goodness that makes me wonder why calzones have yet to have their moment.

Here's our first pizza: the San Gennaro, which features sausage, peppadew, buffalo mozzarella, and caramelized onions. I greatly enjoyed this pie, which proved to be slightly sweet. A small spoonful of crushed garlic from the condiment bar takes it to the next level (but there shall be no kissing afterwards).

Matthew approves.

And now the second pizza: the Capricciosa. Mushrooms, artichokes, prosciutto, garlic, and buffalo mozzarella. Also quite tasty; although we both liked the San Gennaro more.

I don't think I'm ready to process the amount of pizza in front of me.

Welcome to my pizza fantasy.

Enthusiasm is in no short supply.

After we scarf down our pizza (quite happily), we then attack the gelato. Matthew and I go halfsies with chocolate and salted caramel flavors. It was a good move.

And let's not forget the cannoli…
The healthy eating begins today.
DeSano Pizza Bakery East Hollywood
4959 Santa Monica Blvd.
Los Angeles 90029
323-913-7000
desanopizza.it