A few weeks ago, I was invited to attend a holiday cooking class held by the "Two Hot Tamales" Susan Feniger and Mary Sue Milliken, the two chefs most recently famous for ascending the ranks of Top Chef: Masters. In addition to finding fame (or rather, additional fame) on Bravo, the two head up several restaurants including The Border Grill, which has become something of an institution here in Los Angeles. It was at that much-lauded eatery that the cooking class took place, and to say I was excited about the event was an understatement. With my friend Sly in tow, I trekked to the restaurant's downtown location where for two hours, we learned a bevy of tips and tricks — all while watching Chefs Feniger and Milliken joke, cook, and occasionally fumble through what turned out to be more of a demo than a hands-on class. Plus, as a special treat for us, we enjoyed the fruits of their labor: a three course meal and a cocktail. Not a bad way to spend an afternoon.

Chefs Feniger and Milliken present to us from a makeshift kitchen in the middle of the restaurant. In two hours time, they breezed through a large number of recipes (all of which were thankfully given to us in a neat little packet).

Even though this is billed as a cooking class, it's more of a comedy show at times as the two women banter back and forth, cracking jokes at a furious pace.

The chefs tells umpteen stories, all totally entertaining.

The happy, eager crowd.

There are many recipes to go through, and quite frankly, between all the chatty tangents and rapid-fire activity up on the stage, it's hard to actually retain the actual steps. However, Sly and I later agree that the most valuable aspect of the demonstration is not learning the recipes but picking up on the dozens of offhand tips and tricks that the chefs mention, often in passing.

The chefs enjoying a "Cranhattan," which features Herradura anejo tequila, cranberry puree, cranberry syrup, and brandied cranberries.

We all receive our very own Cranhattans. I enjoy it quite a bit, even if it is a touch too sweet for me.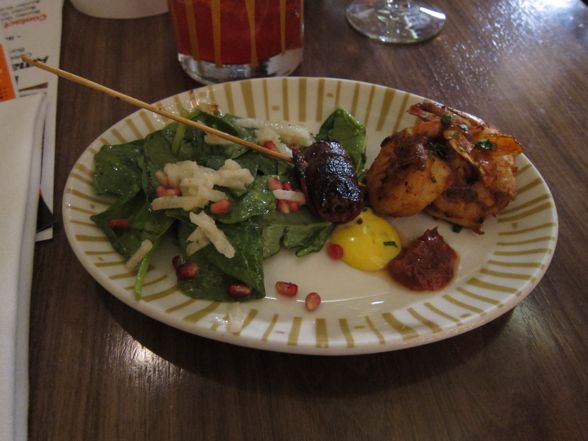 Our appetizer plate: spinach salad with pomegranate; bacon-wrapped date with cabrales blue cheese; and spicy seared shrimp with Mexican cocktail sauce and aji amarillo aioli. We learn how to make all of the above, but alas, I retain nothing. Thank goodness once again for our packets.

For our main course, we have delicious Yucatan pork; baked yams with lime and honey; shredded brussels sprouts; and a spicy jicama, pineapple, and orange salsa. I'm a happy man (except for the fact that proper etiquette prevents me from eating everyone else's servings).

Lastly, a pear and cranberry ginger crisp and rompope (which is basically egg nog). A lovely note to end the meal on.

The chefs happily bring an end to the demo, but not before a minor mishap (Susan Feniger accidentally curdled some eggs in the egg nog process. It made me feel better about my own egg curdling tendencies).

An autograph session follows the demo, but we're too impatient to wait in line. It's too bad because I really want to tell Mary Sue Milliken that I enjoyed her quesadilla on Top Chef: Masters (Bravo captured me saying "Delcious… tender" or something like that on camera).

Sly and I instead retreat to Villains Tavern where we hold court as the only patrons in the bar (at least until a tall, hulking Jason Momoa enters, causing the floorboards to literally shake with every step he takes in his boots. I felt like the size of a pea). But I digress…
As for those offhand tips, I tried my best to remember them all, but only a few stuck with me. Here they are:
Always wear an apron when cooking. Seems like an obvious tip, but here's the unique reason why: if you tie your apron in front of you (cross the straps around your back and tie below your belly-button), you can then hang a towel from the straps quite easily. This makes the act of wiping your hands, wiping your knife, or grabbing a hot pot super fast and easy.
Plastic cutting boards dull knives much more than wooden cutting boards
Always be sure to wipe your knife as much as possible. Acid can dull it (so can extensive soaking in the sink). Also be sure to frequently sharpen your knife on a sharpening steel (that rod thing that comes with most knife sets). Don't do it simply when you start off your prep. Be sure to be always sharpening as you go along.
Dammit, I forgot the rest. Guess I should go back.
If you take the class, be sure to bring a little notepad so you can retain more of the tips than I have.
Thanks to the Border Grill for inviting me to the class. I had a blast!