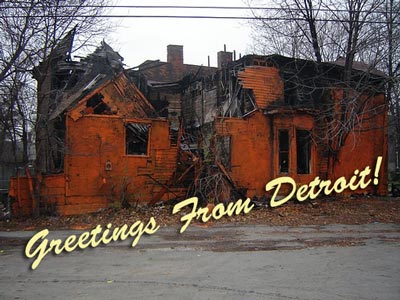 Not to hate on my many friends from the greater Detroit area, but even they have to be scratching their heads as to how their fair city wound up on the
New York Times
' vaunted destination guide,
The 53 Places To Go In 2008
.  Sure, there's plenty of rich local history, and the riots are a blast, but when we're dealing with exotic locales such as Laos and Courchevel and Killlimanjaro, Detroit seems so… blah.  I think it was the editors' way of cracking a mean joke — like The Gray Lady's own personal version of
She's All That.  
Of course, next thing we'll know, the
Times
will be falling in love with Detroit and having its Magazine Section making the city over in a little red dress and makeup, and Sixpence None The Richer will play as Detroit comes down the stairs, but it'll all come crashing down when Paul Walker lets Detroit know that she's just the victim of a cruel prank and that she'll never be the queen of the Global Destination Prom.  Then the Times will rebel against its dad and not go to Dartmouth.  Wait, what was I talking about again?
Oh yeah.  The article.  To read more, check it out
here
.