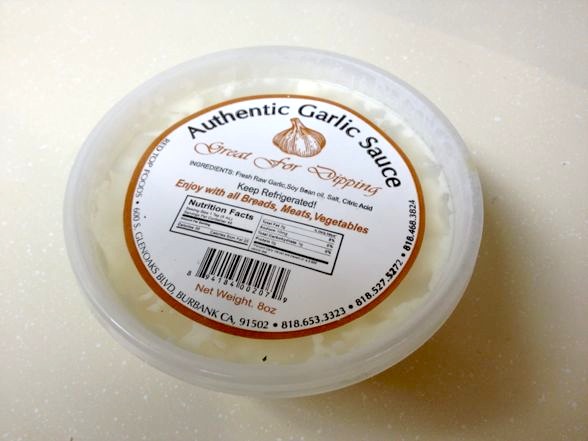 Garlic. It's the best. Who doesn't love garlic, aside from vampires and other similarly closed-minded ghouls? I've recently been on a minor garlic quest to master the fine art of toum, a Lebanese garlic sauce formed from garlic, lemon juice, olive oil, and salt. One of my attempts (documented here) involved raw egg, which sent my mixture into aioli territory, which was delicious but not really what I was looking for.
It turns out that toum is not as simple as it would appear, and while normally that's exactly the sort of challenge I embrace, I have to admit that I've thrown in the towel. Why? Well, I was recently at Jon's grocery store in Los Feliz, and I came upon a no-frills container of "authentic garlic sauce" that claimed it was "great for dipping." I'm not master chef, but it looked a hell of a lot like toum (spoiler alert: it pretty much was toum). Anyway, I indulged a whopping $2.50 on this sauce, and I can proudly state that my desire to make toum from scratch has fully dissipated.
This sauce is divine. If I could, I would sit and eat the stuff for hours on end, but I fear no one would come within twenty feet of me for at least thirteen days. Making things even better was the random pita I grabbed from a nearby shelf. Little did I realize I was procuring a bag full of HEAVEN.

Masada kosher pocket bread is killer. So fresh and tasty; combined with the garlic sauce, it's an out of this world snack. Carbs? Sure. But worth it.
Speaking of garlic bread, might I bring your attention to the cheesy garlic bread at Delancey.

This off-menu item (which I so glamorously captured with my iPhone) hits nearly all those garlic bread notes we love: salty, crunchy, and of course, garlicky. Cheesy too! The only drawback: it's a little on the dry side. I love my garlic bread to be buttery and greasy, and while the flavor on this bread was on point, it did lack that — dare I say it — juicy element. Was it enough to derail the whole dish? Absolutely not. These are minor quibbles here. Order the garlic bread and enjoy it. I know I did.
Delancey
5936 W Sunset Blvd
Hollywood, CA 90028
(323) 469-2100
delanceyhollywood.com
Jon's Supermarket
1601 N Vermont Ave
Los Angeles, CA 90027
(323) 660-0220
jonsmarketplace.com