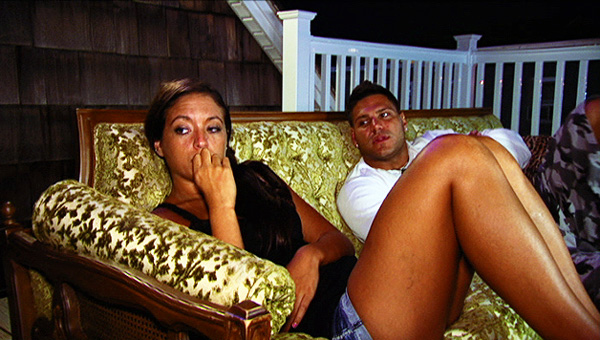 Anyone who watches Jersey Shore knows that when Sammi Sweetheart (née Giancola) is upset, she gets one hell of a sneer on her face. The effect is comical enough on its own, but it's even more amusing when Sammi slaps on some clown makeup. Those eyebrows go up, that nose crinkles, and suddenly Sammi looks like a bitter reject from RuPaul's Drag Race. Yes, Sammi's drag queen expressions are hilarious, and on this week's show, she gave us a full range of Joan Crawford-esque images that just needed to be archived.
After the jump, a full tour of the visual splendor that is Sammi's face.

The "I don't wanna hear it."

The "Go Find Someone Who Cares."

The Ardent Chipmunk

The "If I EVER…."

The "I Put My Glasses On, Which Means I'm Very Serious About My Rage."

The About-To-Turn-The-Full-Bitch-On

The Angry Executive Receiving News of a Hostile Takeover

The "Oh Yeah? You Want Me To Look It Up On Wikipedia? Because I will!"

The Drag Queen Just Found Out No Bus Is Running Tonight

The "What Are You Talking About? There's No Such Thing As Tangelos."

The "You Are Just Gross. Ew."

The "You Embarrassed MMMMEH!!"

The "Are You Serious Right Now With The Lines In Your Hair?"

The Math Is Hard

The 43 Year Old Woman Is Mad That JoAnn Down The Street Stole Her Recipe (a.k.a. The "You See What She Did? You See What She Did?")

The "I Don't Want To Talk About The Wheel of Fortune Incident."

The "Excuse me. EXCUSE ME."

The "You Know What You Did Wrong, But I'm Not Entirely Clear What It Is; So I'll Stand Here And Pretend Like I Do Know, and Hopefully You'll Just Tell Me."

The "That's A Crock of Shit!"

The Just Tasted Not So Great Pizza.

The "He'll Be Sorry When I'm Gone."

The "But You Know What? I Love The Jerk!"

The "MacGuyver Was A Good Show. A DAMN Good Show."

The "Get Off My Lawn Before I Turn The Sprinklers On."

The "If I Have To Tell One More Kid To Get Off My Lawn…"

The Overconfident Emu

The "So I Left The Tanning Bed On. What's The Big Deal?"

The "Are you friends with HAH? ARE YOU FRIENDS WITH HAHHH???"

The "I Just Shot You With Invisible Bitch Rays From My Eyes."

The "I'm Going To Kill You In Your Sleep, and I'm Going To Enjoy It."
Thanks for reading! If you like the post, share it on Facebook with the button below!